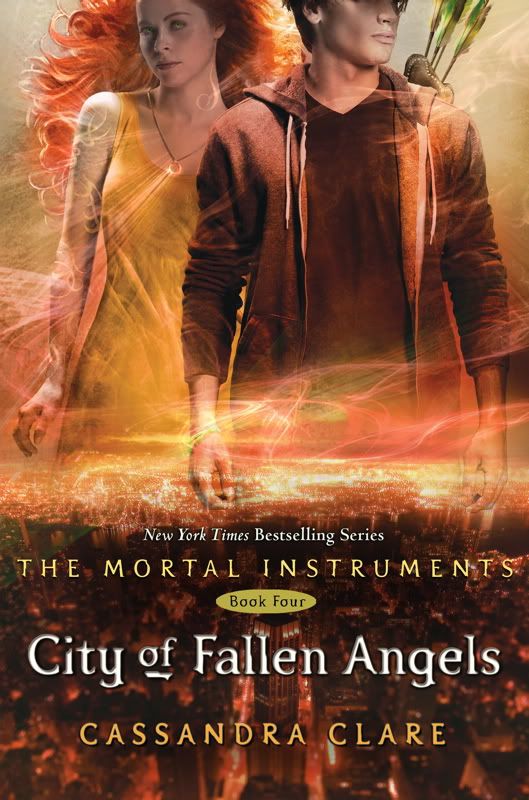 City of Fallen Angels
by
Cassandra Clare
Series:
The Mortal Instruments #4
Published by
Margaret K. McElderry
,
Simon & Schuster
in 2011
Genres:
Fantasy
,
Paranormal
,
YA
Pages:
424
Source:
Library
Goodreads
City of Fallen Angels takes place two months after the events of City of Glass. In it, a mysterious someone's killing the Shadowhunters who used to be in Valentine's Circle and displaying their bodies around New York City in a manner designed to provoke hostility between Downworlders and Shadowhunters, leaving tensions running high in the city and disrupting Clary's plan to lead as normal a life as she can — training to be a Shadowhunter, and pursuing her relationship with Jace. As Jace and Clary delve into the issue of the murdered Shadowhunters, they discover a mystery that has deeply personal consequences for them — consequences that may strengthen their relationship, or rip it apart forever.

Meanwhile, internecine warfare among vampires is tearing the Downworld community apart, and only Simon — the Daylighter who everyone wants on their side — can decide the outcome; too bad he wants nothing to do with Downworld politics. Love, blood, betrayal and revenge: the stakes are higher than ever in City of Fallen Angels.
My Review:
Have you ever had one of those books where everyone loves it and you want to too but you just can't? I mean, it's not that I didn't like the book, I did. I just don't have a very strong opinion about it either way. I've been feeling a little burnt out recently so it may be my fault. No matter what the problem is it's making it extremely difficult to write a review. 
Unfortunately, for me, I felt like this was a filler book. This often happens when a series is extended past its original intention (wasn't TMI supposed to be only 3 books long?) It certainly wasn't on par with Clockwork Angel, my favorite of hers. Then again even Cassie Clare's worst book would be better than many authors' best books, so what am I complaining about, right?


All that said, there were some things I really liked about this book. It focused a lot on Simon, who has always been my favorite character. (Jace is too angsty and Clary is too drama-y for me.) I thought that the story did move forward, plot-wise which was the intention, though I don't feel the characters grew as much as they could have.


I guess the bottom line is that this one is essential to the story line so please do read it if you're into the series. I just didn't find it quite as good as the rest.