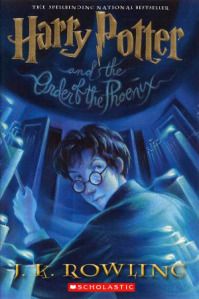 Harry Potter and the Order of the Phoenix
by
J. K. Rowling
Series:
Harry Potter #5
Published by
Scholastic
in 2003
Genres:
Fantasy
,
YA
Pages:
870
Source:
Bought
Goodreads
The fifth hefty installment to J.K. Rowling's renowned Harry Potter series takes a uniquely psychological and intensely dark turn, bringing the boy wizard at odds with his own identity and friendships as he continues to fight He-Who-Must-Not-Be-Named. Now fifteen years old with four Voldemort battles under his belt, Harry feels frustrated about the growing public skepticism about the Dark Lord's return. Unfortunately, the Ministry of Magic is also voicing its doubt, and all of Hogwarts comes under the watchful eye of an oppressive Ministry representative. Despite the additional problems of looming O.W.L. exams and Hagrid's inexplicable absence, Harry's main preoccupation is his vivid dreams that take him to places -- and make him witness events -- that horrify and intrigue him. These dreams provide a shocking clue to his very existence, and when eventually they lead Harry to confrontation, the wizard must cope with a tragic death and a telling prophecy about his future.
My thoughts:
Well I certainly didn't expect to finish this one before the end of the month. Then again, I didn't expect to come down with a cold either. Gotta look at the bright side though, right?
Oh my. What to say? This book has been lovingly dubbed Harry Potter and the Pillar of Angst by my friends. I can't say I blame them. There's a lot of psychological stuff in there with very little action. On the other hand, some of my absolute favourite quotes in the whole series are from this book. For example: In response to Harry's accusation that his friends won't look at him not the other way around, Hermione says "Maybe you're taking it in turns to look and keep missing each other?" I don't know why but that line always makes me giggle!
I also love the development of Peeves in this novel. In the first four he was merely an annoyance (and I loved him for it – I have often said Peeves was my favourite character). But now he takes on some character with a real enemy in Umbridge. And what's more, I love the fact that he bows to the Weasley twins when they tell him "Give her Hell from us!" and the way McGonagall is so frustrated at Umbridge that she tells him the chandelier unscrews the other way.
This was the first book I really started to look at names for. Umbridge is the one who really got me thinking – there's a word in English that sounds like Umbridge that pretty well describes what the other characters feel towards her (though I have no idea how it's spelled so I'm not even going to try). That got me thinking about other significant names. For example: Lupin = Wolf in Latin and many romance languages, Malfoy = "Bad time" in French (spelled slightly differently), even Voldemort = "Fly from death" also in French. But what really got me thinking was the first time I read it in French, because while some of the names were based on French, others got changed. Snape became Rogue, probably because Snape is based on an English word (I haven't been able to find one, but that's my best guess). This was probably also the point where I began scrutinizing every word for clues to how it would end – it was fun coming across my little pencil underlining every once in a while and going "Yeah I was soooo off there!"
Anyways, that's it for me on the Potter-thon, hope you all had fun!