I really wasn't going to put up this review until after the challenge was over, but as I was putting up my "last" review I realized I was only one book below "Shark" status. That was just a little disappointing, and since I already had a book read and had planned to review it… well here it goes! (P.S. Sorry for bombarding your feed with reviews, but I really did have to catch up somehow)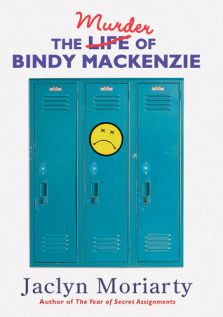 The Murder of Bindy Mackenzie by Jaclyn Moriarty
Series: Ashbury/Brookfield #3
Published by Arthur A. Levine in 2006
Genres: Chick Lit, YA
Pages: 496
Source: Library
Goodreads

Once again the setting is Ashbury High, in Sydney, Australia, and Bindy Mackenzie, who had a pivotal cameo in Assignments, returns as the central character. Brilliant, precocious Bindy (who wrote in her diary at age 10, "I've been struggling a bit with Ulysses by James Joyce") is frustrated when her gestures of kindness toward fellow students go unappreciated. Her aggressive resistance to a new required course, Friendship and Development, sharply alienates a group of her fellow classmates, whom she nicknames the Venomous Six. But as she gradually gains self-awareness, it's these students, along with a dreamy transfer student, Finnegan, who embrace, support, and even save her.
Review:
I'll be honest. I didn't enjoy this book. When I finished A Year of Secret Assignments I decided to pick up this one, because I enjoyed it in the way you enjoy a fluff piece. I don't know what it was with this one- Bindy was too unlike-able, the plot seemed full of holes and even more unlikely than any variety of fantasy/paranormal novels that have come to be the rage recently. I just did not enjoy reading it.
I did finish though, so I must have found something interesting. I guess what kept me going was this idea that something was going to happen to Bindy (something had to, honestly. She was so thick about the whole feeling ill thing). I wanted it to be something she was doing to herself. There's some kind of poetic justice to a novel that has it's particularly odious main character fall ill because they've accidentally poisoned themselves. I was really quite disappointed when this didn't happen (sorry, slight spoiler there). If felt very Deus ex machina when she finally did get around to explaining the situation. Sure the hints had been there, but it felt like she was pulling the mystery out of thin air after nearly 400 pages of a completely different story. For me, I needed the mystery to relate to the rest of the book, and it just didn't.
I suppose I should put a disclaimer here. I don't hate smart people. It's the holier than thou attitude that I absolutely detest. And the problem is, I see myself (or at least my younger self) in Bindy a lot. I hate that, because I don't want to even think about what people thought of me in high school. I was that kid. I was smart, and I wasn't afraid of what people thought of that. Granted, I was a little terrified of becoming someone like Bindy, so that may have helped, I really don't know. But I think because of the similarities between my younger self and the main character, I have a difficult time laughing at her "comic" obsession with grades and being better than everyone else. To me, it's just not funny.
And that's me done for the "Beach Reads" Challenge! Look for a wrap up post soon, and I'll be back to normal reviews as soon as I finish the next book (Either Going Bovine by Libba Bray or The Shadow Dragons by James Owen)