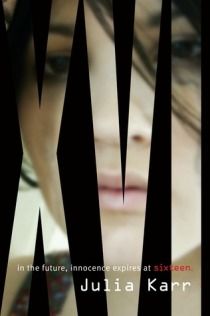 XVI
by
Julia Karr
Series:
XVI #1
Published by
Puffin
,
Speak
in 2011
Genres:
Sci Fi
,
YA
Pages:
325
Source:
Library
Goodreads
Nina Oberon's life is pretty normal: she hangs out with her best friend, Sandy, and their crew, goes to school, plays with her little sister, Dee. But Nina is 15. And like all girls she'll receive a Governing Council-ordered tattoo on her 16th birthday. XVI. Those three letters will be branded on her wrist, announcing to all the world—even the most predatory of men—that she is ready for sex. Considered easy prey by some, portrayed by the Media as sluts who ask for attacks, becoming a "sex-teen" is Nina's worst fear. That is, until right before her birthday, when Nina's mom is brutally attacked. With her dying breaths, she reveals to Nina a shocking truth about her past—one that destroys everything Nina thought she knew. Now, alone but for her sister, Nina must try to discover who she really is, all the while staying one step ahead of her mother's killer.
My Review:
This is my first dystopia in a while, and I have to say, I was really looking forward to it, even though it didn't make it onto my original projected reading list for the challenge. Projected reading lists never work for me anyways, so I just picked books at random that looked good. I figure some of them will end up getting read and some not, but overall I should end up with a full 12 after a year.


Some things that really impressed me: I could really see this happening. Some dystopias are set so far in the future or so differently from our world that while they're really interesting, they almost don't qualify as an earth dystopia for me. But this one was really rooted in some issues that are current, and have potential for changing our society in the direction of the world in XVI. It even mentions Katrina and the BP oil spills, albeit indirectly. While there are some unexplained parts, the majority of the society is very well explained, and well thought out. 


I also liked that while the society is dystopian, the issues dealt with are completely relevant now. We've all heard the stories about the people like Ed. In fact, most of us probably know people who have been in Ginnie's situation with Ed. When someone is that abusive, the recipients of the abuse often feel like Nina did – out of control, and unable to fight back. It's obvious that Karr is not advocating Nina's particular solution, but she is advocating getting help. Nina spends a lot of time scared of Ed and I don't blame her, but once she tells her friends what is going on and gets help the situation becomes at least slightly better. 


All in all, whether I liked it or not isn't important (I did, for those of you who like black and white answers). The important bit is that this is an extremely thought provoking novel that belongs in schools being taught alongside books like The Giver (which personally, I know many people hated in school – it got taught anyway), though perhaps at a higher level, since we did The Giver in 5th grade. 


I know, this review feels rather short, but it's difficult to say more without spoiling it. I recommend this to everyone, not because I think you'll like it (though I did) but because I think everyone should read it. 


On to lighter reviews soon, I hope!