The Summer "Beach Reads" Challenge ends today and I still have three reviews to finish! Plus I have to go to school and … well I'd better get started!
So first off: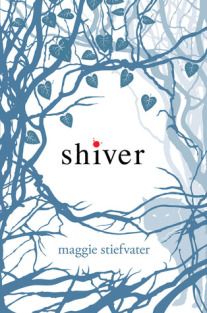 Shiver by Maggie Stiefvater
Series: Wolves of Mercy Falls #1
Published by Scholastic in 2009
Genres: Fantasy, Paranormal, YA
Pages: 400
Source: Library
Goodreads

Grace, 17, loves the peace and tranquility of the woods behind her home. It is here during the cold winter months that she gets to see her wolf—the one with the yellow eyes. Grace is sure that he saved her from an attack by other wolves when she was nine. Over the ensuing years he has returned each season, watching her with those haunting eyes as if longing for something to happen. When a teen is killed by wolves, a hunting party decides to retaliate. Grace races through the woods and discovers a wounded boy shivering on her back porch. One look at his yellow eyes and she knows that this is her wolf in human form. Fate has finally brought Sam and Grace together, and as their love grows and intensifies, so does the reality of what awaits them. It is only a matter of time before the winter cold changes him back into a wolf, and this time he might stay that way forever.
Review:
A lot of people have been reviewing this one (or rather its sequel Linger), and I thought it looked decent so I decided to order it from my local library. While I can see the attraction for a lot of people, it wasn't my favorite book ever.
First of all, there were some things that just felt slightly off to me. This book is a lot like Twilight, which is probably why a lot of people like it. In its favour, Grace has a little more personality, and I like that she's a go-getter who comes up with solutions to problems, even if the solutions aren't right. But to me, she's still got a little of that "Bella = pushover" flavour to her. She sees Sam wounded, decides to help him and she's instantly "in love and there's never going to be anyone else!" That just doesn't ring true for me. As much as I'd like to believe in "love at first sight" this just feels, to me, like teenage puppy love. Add to that the fact that they never get into a fight or disagree strongly on anything, and it just doesn't feel like a real relationship. Real relationships don't just happen – you have to work!
On the other hand, I really enjoyed the ending of this one. As the Twilight series came out, I had certain expectations and hopes for the ending, none of which were fulfilled. I even considered writing fan-fiction to "fix" the ending, because I felt it just wasn't right. Shiver does exactly what I wanted Meyer to do at the end of Twilight. I'm not going to spoiler or anything, so don't worry about that, but I love the fact that someone else has written a book to replace the Twilight series, which I felt let me down in so many ways.
So, if you like Twilight, I would definitely recommend Shiver. If you didn't like it, I would suggest at least trying Shiver for all of its redeeming characteristics.
(P.S. All of you Twi-hards out there – please don't comment if all you have to say is "I hate you for not liking Twilight." There's nothing that bothers me more than people who think the only correct opinion is theirs and it is their right, nay their duty to make everyone else see the light. I am entitled to my opinion, you are entitled to yours, let's just leave it there, k?)
Now off to school. Next review up this afternoon, on The Year of Secret Assignments