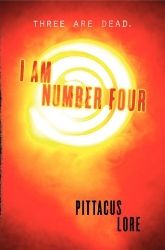 I am Number Four
by
Pittacus Lore
Series:
Lorien Legacies #1
Published by
HarperCollins
in 2010
Genres:
Sci Fi
,
YA
Pages:
440
Source:
Library
Goodreads
In the beginning they were a group of nine. Nine aliens who left their home planet of Lorien when it fell under attack by the evil Mogadorian. Nine aliens who scattered on Earth. Nine aliens who look like ordinary teenagers living ordinary lives, but who have extraordinary, paranormal skills. Nine aliens who might be sitting next to you now.

The Nine had to separate and go into hiding. The Mogadorian caught Number One in Malaysia, Number Two in England, and Number Three in Kenya. All of them were killed. John Smith, of Paradise, Ohio, is Number Four. He knows that he is next.
My Review:
When I first saw this book around the blogosphere, I was kind of skeptical. I'm getting a little tired of the "New guy/girl falls for the wrong person but they were meant to be together  so they work it out in the end" and that's exactly what this sounded like. I'm so glad to be proven wrong!


First of all, this is the first time I have ever seen one of these where one of them is an alien, and I like it! I've seen thousands of Vampire/Werewolf/Angel/Witch/whatever paranormal you fancy versions of this, and it's getting to the point that they have to be absolutely fabulous for me to enjoy them because they've been done so often. But aliens have rarely been touched, and I think it's a really good idea! We need to bring back YA sci-fi, and here's a great start.


The thing I really liked about this one is that, even though there's a love story to it, it's not the main story. John loves Sarah but the important part of the story is the Mogadorians trying to kill Loriens, and that always comes first in the story. I really like this – many paranormal stories are all about the forbidden romance these days, and while that's nice, I'm so ready for one that is more about the actual story not the romance. 
Oh, and of course I love the fact that it's set in Ohio! We tend to be considered a boring place to live, and while I don't disagree, it's nice to read a story  that makes it seem at least a little more interesting.


I'm so excited to go see this  film someday, and I'm so glad I gave the book a chance!