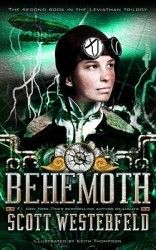 Behemoth
by
Scott Westerfeld
Series:
Leviathan #2
Published by
Simon Pulse
in 2010
Genres:
Steampunk
,
YA
Pages:
481
Source:
Library
Goodreads
The behemoth is the fiercest creature in the British navy. It can swallow enemy battleships with one bite. The Darwinists will need it, now that they are at war with the Clanker powers.Deryn is a girl posing as a boy in the British Air Service, and Alek is the heir to an empire posing as a commoner. Finally together aboard the airship Leviathan, they hope to bring the war to a halt. But when disaster strikes the Leviathan's peacekeeping mission, they find themselves alone and hunted in enemy territory.
Alek and Deryn will need great skill, new allies, and brave hearts to face what's ahead.
My Review:
I love steampunk (I think I've read enough now that I can officially say that). Steampunk isn't just fantasy, at least to me – it's a way of learning history. Yeah, ok, some of the bits are changed, and there are fantastic beasts and amazing machines, but part of what makes a good steampunk is how very close the author gets to the "real thing," at least in everything they haven't specified they're changing. Now I'll admit, I enjoy history, at least the bits with interesting stories, but I'm really more of an ancient history buff. More recent than, say, King Arthur and I start to lose interest. Unless, that is, a really amazing author can make it interesting.
Westerfeld definitely makes my list of authors who can make me interested in time periods I didn't much care about before. I always found World War I particularly boring, because I'm not much one for wars – especially as we were mostly taught about the politics involved and not much about the interesting stuff that makes for good stories! Add in some beasties and Clankers though, and I can't put it down. I want to know more about this world where Deryn and Alek live. I want to know how the beasties work, and I want to help take care of them. I want to see the gorgeous Clankers I imagine in Istanbul. And I want Dr. Barlow's dresses! (Not to mention a Perspicacious Loris of my own! They sound so cute!)
It's so difficult to say anything else without spoiling either book. The second book was a logical extension of the first, wrapping up some loose ends and creating some others, but without feeling forced, or on the other hand, feeling like filler until the final installment. (Not that I want the next to be the last – I realized as I was typing that, that I was assuming this would only be a trilogy. Honestly, I hope it goes on for much longer, because I will be very sad when it's over! I might beg if I had to!)
And now back to reading! I'm officially on Spring Break now, and I'm so excited to decimate my TBR pile!