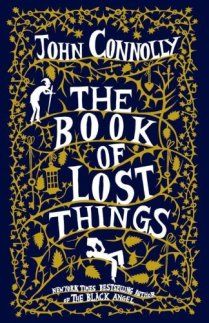 The Book of Lost Things
by
John Connolly
Published by
Atria
in 2006
Genres:
Contemporary
,
Fantasy
Pages:
339
Source:
Library
Goodreads
High in his attic bedroom, twelve-year-old David mourns the death of his mother, with only the books on his shelf for company. But those books have begun to whisper to him in the darkness. Angry and alone, he takes refuge in his imagination and soon finds that reality and fantasy have begun to meld. While his family falls apart around him, David is violently propelled into a world that is a strange reflection of his own -- populated by heroes and monsters and ruled by a faded king who keeps his secrets in a mysterious book, The Book of Lost Things.
My Review:
Wow. This one's a thinker. I'm still having trouble putting my thoughts in order for it, because it gave me so much to think about.
One of the things I loved about it was how many stories were included. I was trying to think of what it reminded me of as I read and what started out as "OK, so kind of like Brave Story by Miyuki Miyabe" turned into "Brave Story meets Alice in Wonderland meets Narnia meets Inkworld meets fairytales meets…" etc. There's so many elements of other stories that the story itself becomes something new. I suppose some people would say that detracts from the story for them, but I think it fits really well, because of who the main character is.


David is a young(ish) boy who has just lost his mother to an illness. His father remarries and has another son, whom David feels is replacing him. The thing about David though, is that his mother taught him to love books. She taught him that books are living things, and that they want to be read (I love that by the way! Totally makes me talking to my books as I reorganize them acceptable, right? lol) But soon, the books begin to actually whisper to him, and they lead him to another world where the characters of his beloved fairytales are real, even if they are twisted beyond recognition. That is another selling point for me – I love that these beloved fairytales are twisted, but they are twisted on purpose, and eventually, at the very end of the novel, it all makes sense. 


This book, to me, represents everything I believe about stories. Stories are alive, because they shape and change who we are, in the same way that people do. What's more, we shape and change the stories we read and tell based on who we are. Anyone who has ever studied fairy and folk tales knows that all the ones that were originally told orally may be completely different from the way they started (kind of like in telephone – whatever the person started with comes out as gibberish by the end). The way the fairytales are told in this novel tells us more about the character that created them and enriches our experience of how fairytales might be or might have started. 


Anyway, I recommend this to anyone who loves fairytales and their retellings, and to anyone who is interested in the relationship between stories, their creators, and their readers. Just give yourself plenty of time to think about it while you're reading.