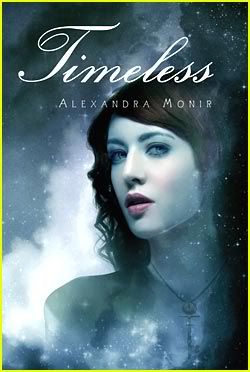 Timeless
by
Alexandra Monir
Series:
Timeless #1
Published by
Delacorte
in 2011
Genres:
Fantasy
,
YA
Pages:
290
Source:
Library
Goodreads
When tragedy strikes Michele Windsor's world, she is forced to uproot her life and move across the country to New York City, to live with the wealthy, aristocratic grandparents she's never met. In their old Fifth Avenue mansion filled with a century's worth of family secrets, Michele discovers a diary that hurtles her back in time to the year 1910. There, in the midst of the glamorous Gilded Age, Michele meets the young man with striking blue eyes who has haunted her dreams all her life – a man she always wished was real, but never imagined could actually exist. And she finds herself falling for him, into an otherworldly, time-crossed romance.

Michele is soon leading a double life, struggling to balance her contemporary high school world with her escapes into the past. But when she stumbles upon a terrible discovery, she is propelled on a race through history to save the boy she loves – a quest that will determine the fate of both of their lives.
My Review:
I have always loved out-of-time love stories. I was rather obsessed with Kate and Leopold and The Lake House when they came out, and I love the Doctor Who episodes like "The Girl in the Fireplace." So when I heard about Timeless I got really excited!


The story itself was fairly interesting. I loved Philip! I always feel like I should have been born in another time because I cannot stand modern boys (for the most part). I want gentlemanly behavior and chivalrous treatment, and frankly boys look better in suits. (This is probably why I love steampunk as a genre – I'm too attached to my modern appliances to truly live back then, but I want to live before chivalry died.) I also thought she solved most of the convoluted-ness of the situation fairly well, but in some ways she explained everything, while in others nothing. 


This brings me to my second point. While I wanted to love the book, it felt like a prequel. It didn't grab me and suck me in the way I wanted it to, because I spent the whole time waiting for something big to happen. Then, the last few pages finally felt like the start of the real story, but it ended! I think this is a result of what she chose to explain. In my mind, a prequel explains all of the little details in the backstory that weren't absolutely essential to the original story, while the true "first book" explains all the really big important stuff. I wanted to know how Irving/Henry figured out how to time travel, and why he chose Michele's mom and more of that story, but instead I got the side story of Michele's romance.


That's not to say I didn't enjoy the book, and I will definitely be looking for the second in the series. It's a great book, especially for a debut! If you think you'll like it, try it. If not, maybe wait until the rest of the series comes out and then try it.