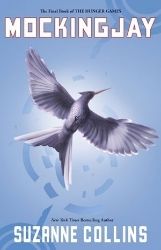 Mockingjay
by
Suzanne Collins
Series:
The Hunger Games #3
Published by
Scholastic
in 2010
Genres:
Sci Fi
Pages:
390
Source:
Library
Goodreads
Young Katniss Everdeen has survived the dreaded Hunger Games not once, but twice, but even now she can find no relief. In fact, the dangers seem to be escalating: President Snow has declared an all-out war on Katniss, her family, her friends, and all the oppressed people of District 12.
My Review:
I'm going to go ahead and say something controversial here: I did not enjoy Mockingjay. Now before you go all torch and pitchforks on me, may I point out that you're not supposed to? Mockingjay, and the whole series really, is meant to make you uncomfortable. It is meant to create cognitive dissonance. I can see this book being taught in 50 years alongside the famous dystopias like The Giver, Anthem and The Handmaid's Tale. 
There has been a lot said about this book, so I'm not going to say much more. Besides, after finishing, it feels like there's only one thing to say:


A Moment of Silence for those who gave their lives in this series:
Though you were fictional, you still left your mark.