I have far too much to catch up on! This past weekend, the Honors department at my uni sponsored a trip to Stratford CA for the Shakespeare festival. I went (it was fabulous), saw Christopher Plummer as Prospero in the Tempest (OMG I can die happy now, lol) and most importantly, I read. Pretty much everyone else went shopping, but I brought a stack of books a foot tall and took the entire trip as my own private read-a-thon. It worked. I made it through three and a half books in two days. Of course, that means I am now 5 reviews behind =/
But before we get to the review, I have to give a little plug. One of the things I look forward to every time I go to Stratford (besides the awesome theatre) is the bookstore. If you are ever in Stratford, YOU MUST GO TO THE BOOK VAULT!!! It's this tiny little storefront on Erie Street, sandwiched in between a cafe and a furniture store. BUT, they have the best sales EVER! While there this weekend, I bought 4 books. Retail price: approx $60 CDN. Price I paid: approx $10 CDN. No kidding. I love this store. Unfortunately, they don't have a website I can link you to, other than the lists of "This is where to shop in this city" which are frankly not very helpful. But it's not that hard to find, so if you ever find yourself in the area, go check it out!!!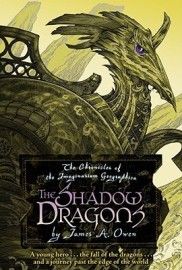 The Shadow Dragons
by
James A. Owen
Series:
Chronicles of the Imaginarium Geographica #4
Published by
Simon & Schuster
in 2009
Genres:
Fantasy
,
YA
Pages:
432
Source:
Library
Goodreads
War is coming in the fourth entry of The Chronicles of the Imaginarium Geographica. The Winter King's Shadow is using the Spear of Destiny to make a shadow army in the Archipelago of Dreams, while World War II looms in the real world. As the Caretakers of the Imaginarium Geographica meet with past legendary Caretakers, the Grail Child and her companions search for a mythic sword.
My Review:
I have been waiting for this book for a VERY long time. It's the fourth book in my absolute favorite series, The Chronicles of the Imaginarium Geographica, and it was set to come out almost immediately after I left for England. I was very frustrated, because I wanted it NOW. Unfortunately, after reading it, I'm starting to feel my desperation was a bit unwarranted.
That's not to say it's all bad. In fact there were several things I liked. A lot of this series is about pulling on things that you already know – the Archipelago is a sort of collection of every story you've ever heard/read so it's all there. By the time you get to the fourth in a series, it's pretty likely that you'll be running out of references, but Owen just delves deeper, bringing up references to books that I only just barely remember reading. He also uses very modern references – one that stuck out to me was one to the Abhorsen trilogy by Garth Nix, though I have since learned that the reference wasn't originally his. I have so much fun trying to pick out what he means by everything he says, that I sometimes forget to read the bits about plot.
Unfortunately, though, this one felt like it dragged. It took me forever to finish this one, where I flew through the last three. It takes far too long to get to the action, and even when things begin to happen, they happen very slowly, in the manner of meetings and arguments over the best way to proceed. I understand what he was trying to do, but it was just so hard to stay interested!
Overall, I'd say not the best of his work. I still love the series, and I will probably follow it to its end (it takes more than one bad book to put me off a series altogether). Oh, and if I've convinced you to go and read this series, start with Here There Be Dragons, or you will be royally confused!
Upcoming Reviews:
Fire by Kristin Cashore
The Eyre Affair by Jasper Fforde
Incarceron by Catherine Fisher
Iron Daughter by Julie Kagawa