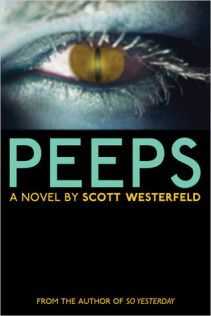 Peeps
by
Scott Westerfeld
Series:
Peeps #1
Published by
Razorbill
in 2005
Genres:
Fantasy
,
Paranormal
,
YA
Pages:
312
Source:
Library
Goodreads
Parasite positives, or "peeps," are maniacal cannibals that cause illness. College freshman Cal was lucky: he contracted the sexually transmitted disease during a one-night stand, but it never developed into its full-blown form. Now he works for an underground bureau in Manhattan that tracks down peeps. Apart from the cravings for rare meat and enforced celibacy (turning lovers into monsters is "not an uplifting thing"), life is okay--until a hip, cute journalism student intensifies Cal's yearnings for companionship.
Review:
One of the things I like about Scott Westerfeld is his ability to take something very unusual and make it seem perfectly normal. In his Uglies trilogy, it was the uber-plastic surgery thing, in Peeps, it's Vampires. To me, this novel was a breath of fresh air – the Vampires weren't really creepy, scary inhuman creatures, and they weren't idolized for their super abilities and possible humanity. They just were. They're a part of the story, but they aren't treated differently than any other character in a story would be. After the Twilight craze and all the subsequent "Vampires are soooo COOL!!! SQUEEEEEEE!!!" books, finally, this was something new.
That said, I do have a few complaints. Westerfeld structures the book in chapters, and every other chapter is a short explanation of a different parasite. The first few were interesting – they were relevant to the story and explained things like how the peeps got their "vampirism" and what it did to them. After that it just got old and a little disgusting. I have no desire to read about these little worms that live in your stomach and eat their way out of you (or the ones that live in your bed – especially as I finished reading this one just before bed the other night.)
I also felt the whole thing was a bit tired – while the take on vampires is new, the plot is plenty old, especially looking at spy, and more recently superhero genres. I'm not going to tell you why, because that would probably count as spoiling, but about halfway through I wanted to yell at Cal for being so stupid and not realizing what was going on, and before I was three-quarters through I was just like "really? I mean really? Have you never seen a James Bond movie?" (As he's 19 and male I find this highly unlikely, but I suppose possible. Still, was he living under a rock?!) Of course if Cal knew all these things, then I suppose we wouldn't have a story. But it's still frustrating.
Overall, I would recommend this book to friends (especially the Twilight crazy ones), but it's not one of those "YOU MUST READ THIS NOW!" books.
Upcoming Reviews:
The Shadow Dragons by James Owen