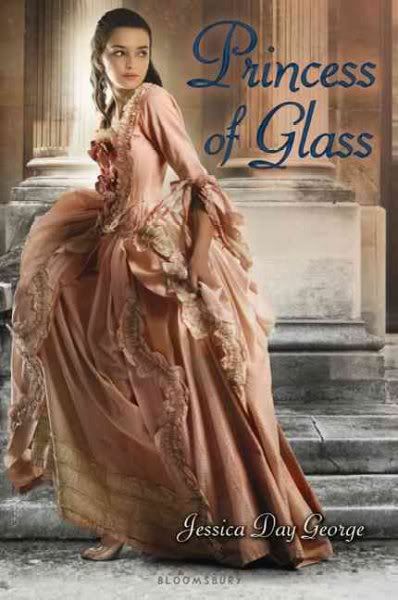 Princess of Glass
by
Jessica Day George
Series:
Princess #2
Published by
Bloomsbury
in 2010
Pages:
257
Goodreads
Hoping to escape the troubles in her kingdom, Princess Poppy reluctantly agrees to take part in a royal exchange program, whereby young princes and princesses travel to each other's countries in the name of better political alliances—and potential marriages. It's got the makings of a fairy tale—until a hapless servant named Eleanor is tricked by a vengeful fairy godmother into competing with Poppy for the eligible prince.
My Review:
After so many heavy books it is so nice to read one where the fate of the world doesn't hang in balance! This book is the sequel to Princess of the Midnight Ball (review here) and it follows one of the younger sisters, Poppy as she goes on exchange to repair the damage the curse on her family has done.
One of the things I thing George has done wonderfully is keeping the world consistent through both fairytales. She has a very distinctive style that comes through in both. Not only that but there is a strong sense that the stories are related. So many times in retold fairytale series' even if all the stories are set in the same world, they are only distantly related, a character vaguely referenced from another book, or another book said to be a fairytale from 100 years ago. That's not the case here. Princess of the Midnight Ball and Princess of Glass are very clearly related both by closeness in time and reuse of characters and themes.


Despite the closeness, I found it interesting that she chose to have the actual fairytale happen to a side character. The main characters are all observers with only minor parts to play in the fairytale portion of the story, which makes for a very interesting take on the whole thing. They're necessary to the main plot, and sometimes the fairytale takes a side plot to their story, but in a way the main characters are all side characters at some point. This is an interesting trick, and kept the story fun and easy to read.


Overall I'd say this was a light, sweet retelling of the Cinderella story that's definitely worth a read!