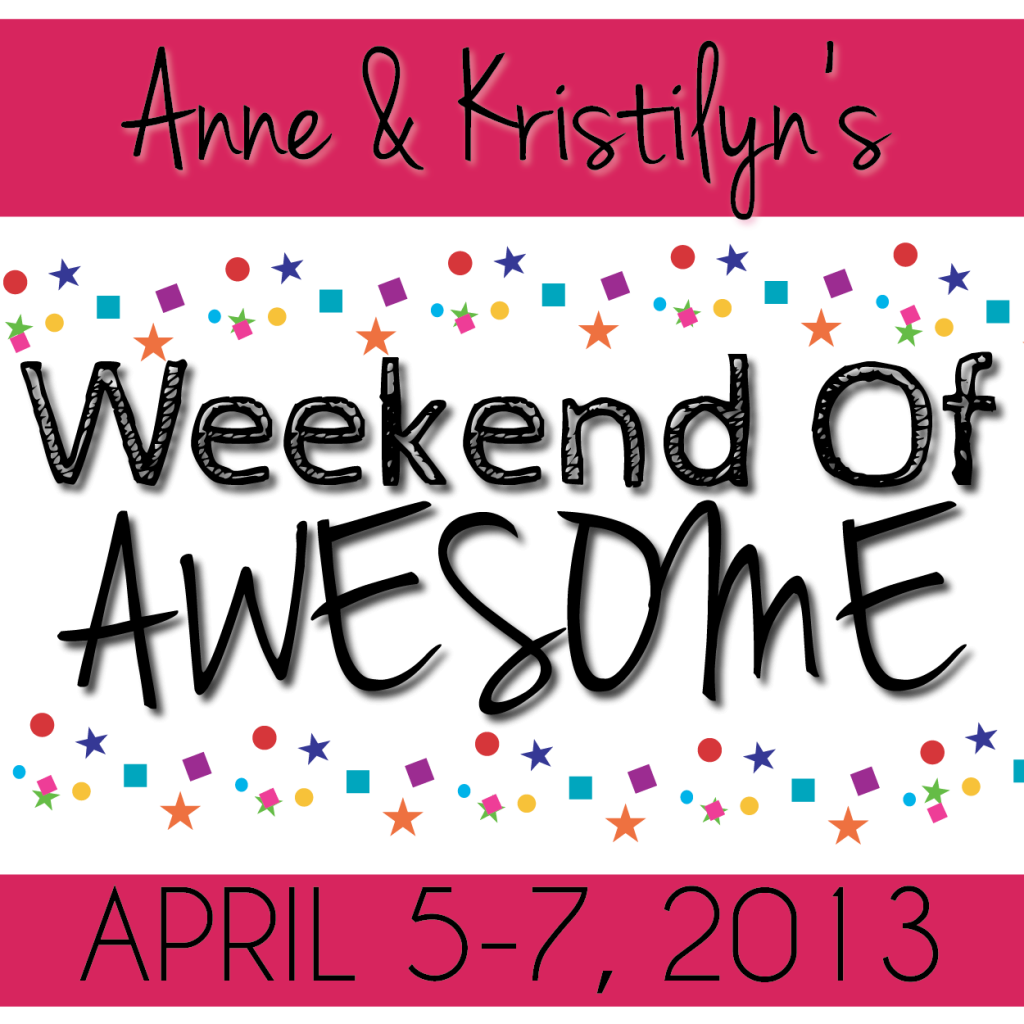 Are you ready for a Weekend made of AWESOME? Then you've come to the right place!
From the announcement post:
A cross between Bloggiesta, a Read-a-thon and a Write-a-thon, Weekends of Awesome are all about doing ALL THE THINGS. Each day of the weekend of awesome is devoted to catching up/getting ahead in a different area: blogging, reading and writing.

If you want to join in, you're welcome to put together a goals post and feel free grab the button for your sidebar. You can also join in spur of the moment on Twitter by following #WeekendOfAwesome. Either way, let us know in the comments if you're joining us so we can look out for you!
I have lots to get done in the reading and blogging areas so I'm going to focus on those. Unfortunately, I didn't get my act together well enough to be able to participate in Camp Nano, so I won't be writing – instead, I'll be splitting what's left of the third day between Reading and Blogging.
Friday: Blogging
Respond to ALL THE COMMENTS (I am embarrassingly behind on this)
Write up 3-5 posts for OWC
Type all handwritten content
Write backlogged reviews (Bewitched, Coraline media review)
Write and schedule as many discussion posts as possible
Update 3 pages of reviews to UBB format
Write up Guest Post for Briana (Pages Unbound)
Saturday: Reading
I am absolutely awful about following a list of books to read, so here is a sample of some of my choices. Priority (i.e. due at the library in a week or less) titles are in bold.
Finish Jenny Pox (J.L. Bryan), Power Under Pressure (Andrew P. Mayer) and Ready Player One (Ernest Cline)
What I Saw and How I Lied (Judy Blundell)
Demon King (Cinda Williams Chima)
Black Heart (Holly Black)
Crown of Embers (Rae Carson)
Shades of Earth (Beth Revis)
The Madness Underneath (Maureen Johnson)
Burn for Burn (Jenny Han, Siobhan Vivian)
Team Human (Justine Larbalestier, Sarah Rees Brennan)
Midnight in Austenland (Shannon Hale)
And that's not even HALF what I have out of the library right now. SO MANY GOOD BOOKS and so little time! *pets the pretty books*
Sunday: Split
Finish whatever I didn't get done off the blogging list
Read at least one more book
That's how my weekend is looking! Leave a comment with a link to your goals post (if you have one) or a few of your goals for this weekend (if you don't)!
Oh, and the number one goal this weekend? Don't get distracted by the television! *glares at Veronica Mars, Eureka and Doctor Who, all calling my name*